Do you notice certain kinds of damages in your kitchen? It is quite natural to notice damages in your kitchen after you have been using it for a long time now. Another thing that you will face if you are using an old kitchen is that none of the equipment or appliances in your kitchen will be upgraded to the latest times. This can be a huge disadvantage and inconvenience for the people using the kitchen. In order to fix those damages and upgrade your kitchen to the latest trends, you should carry out a kitchen remodeling service. We, at Sunset Tile and Bath, can be the right choice for you. We are one of the most established and reliable companies which have been in this business for more than 20 years now. Right from drywall and texture, plumbing and electrical, structure and framing, to even granite countertops, and kitchen and bathroom remodeling, we can help you with everything. So, if you are located in areas like Scottsdale, Phoenix, Peoria, AZ, Surprise, AZ, or Glendale, AZ, then you can opt for us.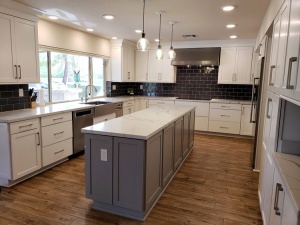 Here, we have put together a few things to check before going for a kitchen remodeling service. Take a look.
Sometimes, builders can present a plan which can exceed your budget. That is why you should always consult your budget whenever you are placing this kind of order. You need to make sure that the company you're choosing offers reasonable rates.
The next thing that you must keep in mind is that the kitchen should not look clumsy. No matter what kind of changes you are going to incur in your kitchen, you have to consider the space you have. Always take measurements and then accordingly set up the space with utmost convenience and functionality.
So, if you are thinking of hiring us, contact us today.