Bathroom Remodeling, Bathroom Renovations, and Custom Bathrooms In Scottsdale, Surprise, Glendale, Phoenix, Peoria, AZ, and Surrounding Areas
At Sunset Tile & Bath, we've been helping people upgrade their existing bathrooms for years and want to be your choice for your bathroom remodeling job. We'll tackle it all, from simple jobs like backsplashes to total bathroom makeovers.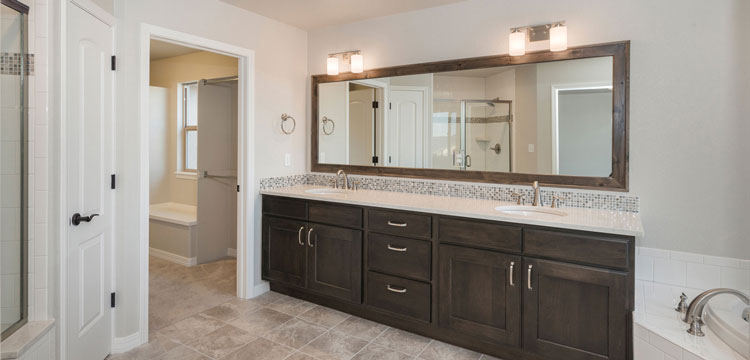 Your bathroom is an important room in your home where you start and end your day, where you can relax and unwind, escaping the pressure and noise of the outside world. Does the bathroom you currently have provide you with what you really want? Do you have the space, the comfort and the functional flow that you need? 
If not, see what one of our experts can do for you. We're trained to help you discover what's possible and how you can transform your existing bathroom into a modern bathroom that fits your needs. We've got the skill and the know-how to create the perfect space for you. View our bathroom remodeling gallery and get inspired for your renovation project!
Custom Bathrooms: Experience the Sunset Tile & Bath Difference
Sunset Tile & Bath has been in the bathroom remodeling business for 25 years. As a family-owned and -operated company, we pride ourselves on performing quality work at an honest price, and with excellent customer service at every step of the design and build process. 
We know that there are many renovation companies you can choose, but we also know what it means to be a local company that is proud to serve the residents of the Valley of the Sun. We're a regional small business that has been providing top-quality work for decades, and we have the skills to ask the right questions to help you craft the bathroom you've been wanting. Go with a trusted, qualified local company that will provide excellent work and even better customer service.
Contact Us Today
To learn more about how Sunset Tile & Bath can help you with the bathroom remodeling project of your dreams, give us a call at 602-789-8700 to speak to one of our bathroom design professionals. You can also contact us via our online form.