Custom Cabinets, Custom Bathroom, and Custom Kitchens In Surprise, Peoria, Glendale, Scottsdale, Phoenix, AZ, and the Surrounding Areas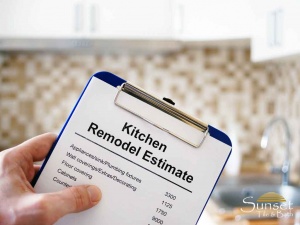 Custom cabinets bring 100% of available space and function to your custom bathroom or custom kitchen. You might hear "custom" and think you are spending unnecessary money for what you can get as stock cabinets, but custom cabinets bring out the best for your bathroom remodeling or kitchen remodeling project. Think of new storage space, easy access, and high-quality materials. If you have storage space that is out of reach, an odd-shaped kitchen or bathroom, or just looking to get the most out of your kitchen and bathroom design, then custom cabinets are the right solution for your home.
Custom Cabinets to Complete Your Kitchen and Bathroom Design
When clients come to Sunset Tile & Bath for their custom bathrooms and custom kitchens, they are looking for more than a renovation of tile or surfaces. They are looking for functionality in their kitchen and bathroom design with high-quality materials. For functionality, they need custom cabinets that will utilize every square inch of storage space for easy access and clutter-free living. For design, our clients are looking for the materials and style that will last them and their busy families for years to come. Bringing the custom cabinets to maximize space for kitchens and bathrooms in Surprise, Peoria, Glendale, Scottsdale, Phoenix, AZ, and the surrounding areas is what we do best.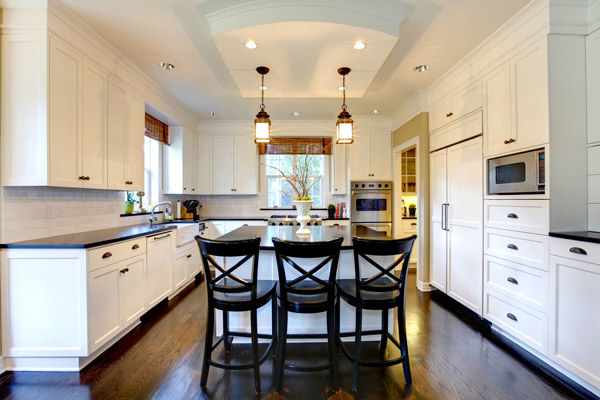 Custom Kitchens
Custom kitchens are what make a kitchen a dream kitchen throughout Surprise, Peoria, Glendale, Scottsdale, and Phoenix, AZ. Your kitchen is no longer a hidden room just for meal preparation. Kitchens are now for dining, entertaining, working, homework, socializing and so much more. To fit all your needs into one space, custom cabinets will create the flow, storage, and more that goes into your specially designed kitchen. This is about you getting the exact custom kitchen you are looking for that fits your lifestyle and requirements.
Custom Bathroom
Many clients think that stock vanities and available cabinets are enough for their custom bathroom design. However, we've found a couple of reasons that clients might want to make the extra investment into custom cabinets for a bathroom that works best for their needs, family, and space.
Adding extra space. Think about all the things you might need to store in your bathroom to make getting ready or everyday life easier. Linens, toiletries, paper products, styling items, and more should be able to fit in your bathroom without cluttering countertops.
Customizing for the people using the bathroom. A master bathroom is different from a small powder room, guest bathroom, or family bathroom. If you only have one bathroom in the house for a full family, we always recommend custom cabinets to take advantage of all available space for a custom bathroom that works for the whole family.
Separate spaces for separate needs. A make-up table, his and her sinks separated by custom cabinets, or even on other sides on the bathroom may work best for your family.
Make a customized design. Some bathrooms may need good flow or a bathroom with a tub and shower for a busy family. Busy families also need custom cabinets that are easy to clean and made of durable materials. In another bathroom, you may want more of a spa feel with rich sauna design and materials.
The end result of the investment of custom cabinets is a bathroom or kitchen that works for you with quality design and long-lasting materials. Contact Sunset Tile and Bath to discuss your custom design wants and needs.