6 important tips on kitchen remodeling projects
Sunset Tile & Bath offers kitchen remodeling in Phoenix, Scottsdale, Surprise, AZ, Peoria, AZ, Glendale, AZ and surrounding regions.  
Here are six important tips to consider for your kitchen remodeling project: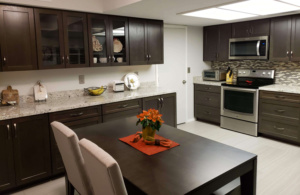 Set a Realistic Budget: Before you start any remodeling project, determine how much you can realistically afford to spend. This will guide your decisions on the scope of the project, materials, and finishes. Remember to allocate some funds for unexpected costs that might arise during the renovation.

 
Plan Your Layout: Think about how you use your kitchen and design a layout that optimizes functionality. The classic "kitchen work triangle" involves arranging the sink, stove, and refrigerator in a triangle for efficient movement. Consider factors like countertop space, storage, and the flow of traffic in the kitchen.

 
Choose Quality Materials: Invest in durable, high-quality materials that will stand the test of time. Cabinets, countertops, flooring, and appliances should not only look good but also function well over the years. While it might be tempting to cut costs, skimping on quality can lead to problems down the line.

 
Consider Energy Efficiency: When selecting appliances, lighting, and other fixtures, prioritize energy efficiency. Energy-efficient appliances can save you money on utility bills in the long run. LED lighting, smart thermostats, and properly insulated windows are just a few options to consider.

 
Focus on Storage: Adequate storage is essential in a kitchen. Consider your storage needs and incorporate solutions like pull-out shelves, deep drawers, and vertical storage to make the most of your available space. A clutter-free kitchen is not only more functional but also more visually appealing.

 
Work with Professionals: While DIY projects can be rewarding, a kitchen remodel is a complex undertaking that often requires a team of professionals. Consult with architects, designers, contractors, and electricians to ensure that your remodel meets building codes, safety standards, and your personal vision.

 
Bonus Tip: Plan for Contingencies: No matter how well you plan, unexpected issues can arise during a renovation. Set aside a contingency fund (usually around 10-20% of your budget) to cover unforeseen expenses without derailing your project. 
Remember, a well-planned kitchen remodel can significantly improve the functionality, aesthetics, and value of your home. Take your time to research, plan, and make informed decisions to ensure a successful and satisfying outcome. Please call us without hesitation.