5 Important Tips on Contemporary Kitchen Design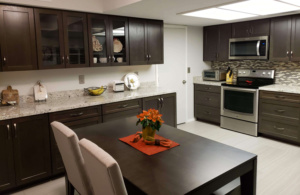 Sunset Tile & Bath provides help with kitchen design in Scottsdale, Phoenix, Glendale, AZ, Surprise, AZ, Peoria, AZ.
Here are five tips for contemporary kitchen designs:
Minimalism: Contemporary kitchen designs often embrace minimalism, focusing on clean lines, simplicity, and functionality. Opt for sleek and streamlined cabinetry with handleless doors and a clutter-free countertop. Keep the color palette neutral, with a preference for whites, grays, or earth tones.
Open Layout: Contemporary kitchens often feature an open floor plan, connecting the kitchen with the adjacent living or dining area. This layout promotes a sense of spaciousness and encourages social interaction. Consider removing walls or installing a kitchen island or breakfast bar to create a seamless flow between the kitchen and the surrounding areas.
High-quality Materials: Use high-quality materials in your kitchen design to achieve a contemporary look. Consider using materials such as stainless steel, glass, quartz, or concrete for countertops, backsplashes, and appliances. Incorporating natural elements like wood or stone can add warmth and texture to the overall design.
Smart Technology: Integrate smart technology into your contemporary kitchen design to enhance convenience and efficiency. Install smart appliances, such as a refrigerator with built-in touchscreen displays or a voice-activated smart assistant for controlling lighting, temperature, and music. This infusion of technology adds a modern touch and simplifies everyday tasks.
Statement Lighting: Contemporary kitchens often feature unique and eye-catching lighting fixtures as a focal point. Consider pendant lights with sleek designs or geometric shapes that complement the overall aesthetic. Use lighting strategically to create an inviting ambiance and highlight key areas, such as the kitchen island or dining area.
Remember, contemporary kitchen design is all about creating a clean, functional, and visually appealing space that embraces modern aesthetics. Adapt these tips to suit your personal style and preferences while maintaining a cohesive and contemporary look.
Our experts are here to help you with modern and amazing kitchen designs. Feel free to give us a call.