Have you just produced a house? Or are you planning to buy one? No matter what kind of house you're buying, you should remember that the kitchen is the most essential part of any house. This is where all your meals are cooked and sometimes as a family, you can get together to enjoy together too. That is why deciding on the kitchen design is an important thing that you must do as soon as you fix the house. We, at sunset tile and bath, can be the right choice for you. We are an established and reliable company which has been in this field for more than 20 years now. We can provide you with a wide range of services, right from bathroom and kitchen remodeling, drywall and texture, demolition and removal, plumbing and electrical to even design and consultation. We are known for our high-quality services and customer-oriented approach. So, if you belong to areas such as Scottsdale, Phoenix, Glendale, AZ, Peoria, AZ, or Surprise, AZ, then you can opt for us.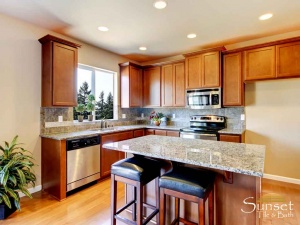 Here, we have put together a few things to check about your kitchen design before finalizing. Take a look.
You have to make sure that the kitchen design is such that it resembles your taste and sensibilities. After all, you are the homeowner and it should resemble your personality. Keep in mind that the overall look and feel of the kitchen should match the rest of the house interior so that the kitchen does not look out of place. This appeal of the kitchen will also translate into higher values for the overall property.
Simply designing a kitchen according to the aesthetics will not help; It also has to be functional because you must not forget that the kitchen is an extremely busy space where the cooking has to be done. You need to incorporate elements in your kitchen design that will give the space more utility and make your experience convenient.
So, if you think we can provide you with the right design for your kitchen, contact us today.