You can speed up the remodeling process and get the most out of your money and time by hiring a professional kitchen designer. It is a worthwhile investment because it frees you to concentrate on other things rather than worrying about minor kitchen design details. The process of renovating a kitchen is difficult. It's a great idea to work with a seasoned kitchen designer. Your designer will listen to your ideas, offer suggestions, and navigate obstacles from the beginning of the planning process through completion. 
Let us look at the importance of hiring professionals for kitchen design: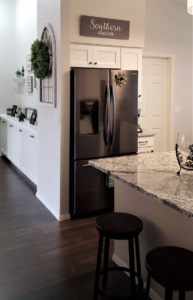 Professional Guidance  
During your first meeting with a kitchen designer, you and the designer will talk about your project and exchange ideas. Your designer may also show you cabinet options, such as framed versus frameless construction and custom features, that may pique your interest in addition to letting you choose colors and styles. Your designer can help you narrow down your preferences and clarify the course of action with your timeline and budget in mind. 
Professional Commitment  
The process of planning a new kitchen is ongoing. Before it is finished, the initial design will likely undergo several modifications. Before the details are finalized, your designer will collaborate closely with you to ensure that all of your concerns are addressed and that you are completely satisfied. They will speak with your worker for hire, guarantee the quality establishment of your cupboards and finish any remaining things. 
Sunset Tile & Bath understand how important your kitchen is. Your family gathers in this room to cook, tell stories, eat, and enjoy quality time together. It's where you get together with friends and make memories for the holidays. The kitchen of today is the center of a home, so you should have one that meets current standards. Contact us if you reside around Scottsdale, Phoenix, Glendale, AZ, Surprise, AZ, Peoria, AZ areas