7 kitchen design inspiration for traditional homes
Designing a kitchen for a traditional home involves incorporating classic elements and timeless aesthetics. Contact Sunset Tile & Bath kitchen for some more ideas in and around Scottsdale, Phoenix, Glendale, AZ, Surprise, AZ, Peoria, AZ. 
Here are six kitchen design inspirations for traditional homes: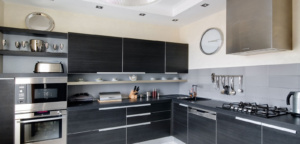 Choose wood cabinets with raised panel doors and a rich, warm finish like cherry, oak, or maple. 
Add decorative hardware such as antique brass or oil-rubbed bronze knobs and handles. 
Opt for warm and inviting colors like soft cream, buttery yellow, or muted sage green for the walls and cabinetry. 
Use natural stone countertops like granite or marble in earthy tones. 
Install a farmhouse or apron-front sink with a classic white finish. It adds a rustic touch and pairs well with traditional designs. 
Consider a bridge-style faucet with vintage-inspired details. 
Use subway tiles or beadboard paneling for the backsplash in white or a soft, complementary color. 
Incorporate decorative tiles with classic patterns as accents. 
Invest in appliances that have a retro or vintage look, like a range or refrigerator with classic curves and finishes. 
Conceal modern appliances behind cabinetry panels to maintain a seamless appearance. 
Crown Molding and Wainscoting:

 
Install crown molding along the ceiling and wainscoting on the walls to add architectural interest. 
Paint or stain these elements to match or complement the cabinetry. 
Incorporate traditional lighting fixtures, such as chandeliers with crystal or fabric shades for a touch of elegance. 
Under-cabinet lighting can provide functional illumination while adding a classic look. 
Remember to balance the traditional elements with modern conveniences and functionality. This blend will create a timeless and functional kitchen that suits the needs of a traditional home. Additionally, personal touches like antique decor, vintage dishes, and heirloom items can further enhance the traditional atmosphere of the space. Please call us without any hesitation.