Perhaps your current Phoenix kitchen is the same kitchen you've had since you first moved into your house. It might not have the flow you want, the functional space you need – and we all know it can be frustrating working in a small space.
At Sunset Tile and Bath, we know the importance of your kitchen. It's the room where your family spends quality time together, cooking, sharing stories, and enjoying meals. It's where you entertain friends and make holiday memories. Today's kitchen is the centerpiece of a home, and you deserve a kitchen that lives up to modern standards.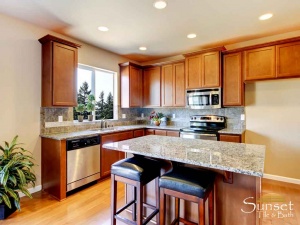 Get Expertise On Your Vision
One of the often-overlooked aspects of custom kitchen design experts is the experience and expertise that they bring to the table. By having an expert review your dreams and look over your Scottsdale home, they can provide suggestions to accomplish what you want while working to save both time and money. This is what they do every day, and they have come across lots of different scenarios, some of which can apply to your specific situation.
What To Expect When Starting Your Kitchen Remodeling Project
Have you wanted to upgrade your countertops to granite? No problem. Plumbed in pot filler above your stove? Sure thing. Replacing and updating cabinets for better functionality and storage? Done and done. Whatever you a looking for, from a new island to tile floors and more, you and Sunset Tile and Bath are a team dedicated to making your Peoria kitchen exactly what you want.
You will be working with an experienced team of designers and contractors that will meet with you to understand what you want your kitchen to be. This is the time to dream big! Once they know what you would like, they'll take the measurements of the space and make a plan. The contractors will then get started from these plans to transform your Glendale space with the kitchen design you want.
A Local Company With The Experience You Need
Sunset Tile and Bath has been in the kitchen remodeling business for decades and, in that time, we have remodeled countless Surprise kitchens to fit with the ever-changing times. Our team of designers and contractors can guide you through the design process, helping you select all the large and small features that match your needs and dreams. Sunset Tile and Bath is proud to be a family-owned and -operated business that has been doing work the right way for 25 years.