Are you setting up a new house? Do you want to build the house from scratch? Then, you must be busy with the kitchen and bathroom design of your house as well. Kitchens and bathrooms are some of the most important parts of the house. That is why you need to build them perfectly. We, at Sunset Tile and Bath, can be the right choice for you. We are one of the most established and reliable companies which have been in this business for more than 20 years now. We can provide you with all kinds of services, starting from home remodeling, drywall and texture, demolition and removal, to even granite countertops, tiles, electrical and plumbing services, and so on. We are known for our variety of services under the same roof along with our highly professional and dedicated services for all our customers. So, if you are located in areas like Scottsdale, Phoenix, Peoria, AZ, Surprise, AZ, or Glendale, AZ,  then you can opt for us.
Here, we have put together a few things to look out for While creating your kitchen and bathroom design. Take a look.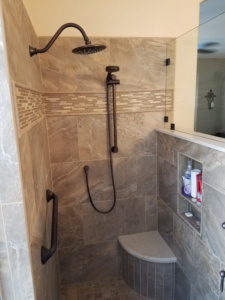 One of the most important things that you need to keep in mind is the taste and personality while designing your kitchen and bathroom. A house should be a reflection of your sensibilities. That is why every element you choose for the kitchen and bathroom should be according to your taste.
The kitchen and bathroom are both extremely functional spaces in the house. You must pick elements that will make your experience more convenient and comfortable. Design these in such a manner so that you can live hassle-free and cozy lives in your house.
So, if you are interested in choosing us for your kitchen and bathroom designing plans, contact us today.