Are you setting up a new house? Are you building a house from scratch? Then, you should begin with two of the most important parts of your house which is the kitchen and the bathroom. These are used by everybody and requires maximum functionality. That is why you need to take great care in its construction. You have to hire a professional for the kitchen and bathroom design. We, at Sunset Tile and Bath, can be the right choice for you. We are an established and reliable company which has been in this field since 1994. We can provide you with all kinds of home remodeling and renovation services, right from kitchen and bathroom remodeling, drywall and texture, structure and framing, demolition and removal to even countertops and cabinetry. We are known for our high-quality products and our extremely efficient and dedicated services. We also offer you custom designs so as to suit the varying tastes of our customers. So, if you are based in areas like Phoenix, Scottsdale, Surprise, AZ, Peoria, AZ, or Glendale, AZ, then you can rely on us.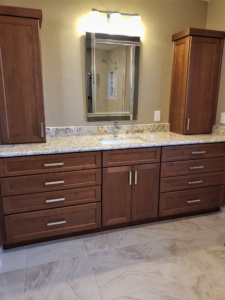 Here, we have put together a few questions to ask a company offering you kitchen and bathroom design. Take a look.
Can you show some of your past work?
Without knowing about the sort of experience the company has, you cannot make a choice. It is better to go through the designs they have provided in the past so as to understand what sort of designs they can present before you. So, you should ask the company if they can show some of the past designs to you.
When you approve a design, the next question should be how much it will cost will stop you have a set budget in your mind regarding these designs and you have to make sure that it is affordable for you. If needed, you can also compare it with other companies and see if this is the cheapest you are getting.
So, after getting these answers, if you're thinking of choosing us, contact us today.