Have you been living in the same house for a long time? Parts of your house will show signs of damage. You have to carry out a home renovation plan from time to time. This will make sure that different parts of your house are functional again and the interiors are also updated according to the present times. It will add to the overall value of your property. We, at Sunset Tile and Bath, can help you with your home renovation plans. We are established and reliable company which has been in this field for more than 20 years now. We can provide you with a wide range of services, right from home renovation and remodeling, including kitchen and bathroom designs and renovation, demolition and removal, structure and framing, to even drywall and texture, countertops, plumbing, cabinetry, and so on. We are known for our wide variety of services under the same roof along with our utmost dedication towards all our clients. We also offer customization facilities so that you can get a house according to your taste and personality. So, if you are from Phoenix, Scottsdale, Peoria, AZ, Surprise, AZ, or Glendale, AZ, then you can opt for us.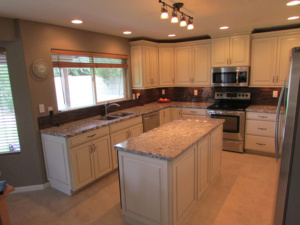 Here, we have put together a few would factors to keep in mind while hiring a home renovation service. Take a look.
One of the first and foremost things that you need to keep in mind is the experience of the company. You have to make sure that the company you're choosing has spent years in this field working on different kinds of remodeling and renovation plans. This increases your chances of getting a more sound and effective service.
Another thing that you have to keep in mind while making this higher is the reputation of the company in the market. You have to make sure that you go through the client reviews and feedback before taking the decision so that you understand their standing and also understand what to expect from them if you choose to hire them.
So, if you're interested in choosing us, contact us today.