6 benefits of opting for home renovation before selling a property
Opting for home renovation before selling a property can provide several benefits that can help you increase the property's value and attract potential buyers. Sunset Tile & Bath provides home renovation in and around Surprise, AZ, Phoenix, Scottsdale, Peoria, AZ, Glendale, AZ. 
Here are six advantages of renovating your home before putting it on the market: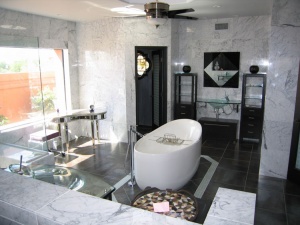 Increased Property Value: Renovations can significantly increase the market value of your property. Upgrading features such as the kitchen, bathroom, flooring, and landscaping can make your home more attractive to potential buyers and command a higher selling price.

 
Faster Sale: A well-renovated home is likely to sell faster than a property in need of repairs or updates. Buyers often prefer move-in-ready homes, so making necessary improvements can reduce the time your property spends on the market.

 
Competitive Edge: Renovations can give your property a competitive edge in the real estate market. Upgraded homes tend to stand out and attract more attention, which can lead to multiple offers and better sale terms.

 
Maximized Return on Investment: When done strategically, home renovations can provide a high return on investment (ROI). Focus on projects that have a high potential for increasing the property's value, such as kitchen remodels, bathroom updates, or energy-efficient improvements.

 
Attract a Wider Range of Buyers: Renovations allow you to cater to a broader audience. By modernizing your home's design, you can attract various buyer demographics, from young professionals to families or empty nesters, depending on the improvements you make.

 
Enhanced First Impressions: First impressions matter in the real estate market. A well-maintained and aesthetically pleasing home can generate positive feelings among potential buyers and leave a lasting impression, increasing the chances of a successful sale.

 
However, it's essential to strike a balance between the cost of renovations and the potential increase in property value. Not all renovations will provide a positive ROI, so it's crucial to carefully plan and budget your home improvement projects before selling your property. Please call us without hesitation.