Has it been a long time that you have been living in the same house? Then, you will probably notice some signs of damage in your house. Before it gets too late, you should try to fix these damages and try to give your home a new look and feel. This will not just improve the appearance of your property but will also add to the overall value so that you can fetch greater returns if you ever plan to put the house on rent or sell it out altogether. The first step would be to find a good home remodeling service. We, at Sunset Tile & Bath, can be the right choice for you. We are an established and reliable company which has been in this field for more than 20 years now. We can provide you with a wide range of services, right from home renovation, kitchen, and bathroom remodeling, design, and consultation to demolition and removal, structure and framing, drywall and texture, granite countertops, tiling, plumbing, and so on. We are known for our quality products and our sense of professionalism and efficiency. So, if you are located in areas like Phoenix, Scottsdale, Peoria, AZ, Surprise, AZ, or Glendale, AZ, then you can rely on us.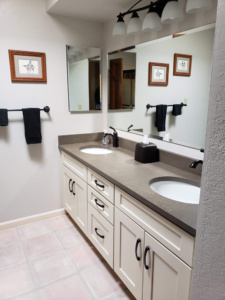 Here, we have put together a few questions to ask a company providing you with home remodeling services. Take a look.
How much time will it take to complete the remodeling?
This will obviously depend on the sort of design you have in mind for your remodeling. But since these professionals have been in this field for a long time, they will be able to provide you with an estimated duration. You might want to know this because you might have other plans with your house and need to plan your daily schedule accordingly.
Do you offer free quotes?
Along with getting an estimated time period for the remodeling process, you might also want to get an estimated rate for the charges. You will be able to understand if it is affordable for you or not only when you get advance quotes.
So, after getting these answers, if you are interested in choosing us, contact us today.