Have you become bored looking at the same walls and floors in your house? Do you want to make changes that are affordable and useful? Worry not, for we, at Sunset Tile and Bath, have brought to you our home remodeling options that are both. Your residence is your identity and we believe in preserving the very essence of this in any way possible. Our team works closely with our customers to make their dreams come true. If you are a resident of the areas of Peoria, AZ, Phoenix, Scottsdale, Surprise, AZ, or Glendale, AZ then we are the firm that you should come to.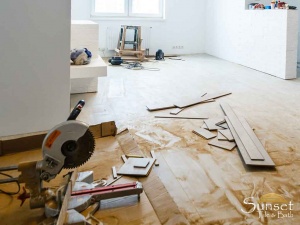 Here, we have made a list of 3 cool benefits that you can get by hiring a firm to handle any structural changes that you want to make in your house. Take a look.
Getting the Latest in Style
A firm that handles this sort of work professionally has to be at the top of their game to attract customers. This means that by hiring a firm you can get for yourself some of the very latest designs and patterns that are available in the market without doing any research yourself.
Optimizing Color Palettes
A firm will be able to guide you properly through the whole process. This includes providing suggestions for various aspects of the restructuring such as choosing a new color palette for the walls and ceiling of your house and getting them to match your carpet and the curtains.
Cost-Efficiency in Multiple Ways
When you are doing this on your own you can easily be made to spend more than you need. You may not know which items available in the market are suitable and what prices you should pay for these. A firm will have contacts in the right places which may even get you a discount.
So, if you are looking to make changes in your house then you should give us a call at 602-789-8700 to get the benefits mentioned above.