Is your bathroom needing an update to make it more efficient for your family? Was your Peoria home built in the 1980s and nothing has really changed? Or maybe you have unfinished space in your basement that you could use for your kids. No matter what your project is, Sunset Tile, and Bath is your home remodeling expert.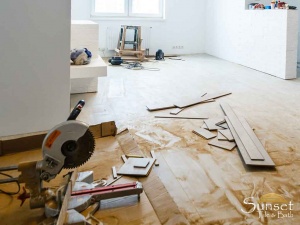 Sunset Tile and Bath is proud to be a family-owned and -operated business that has been doing work the right way for 25 years. We're also proud to live here and work here. Let us show you what your home could look like.
Make Your Home A Space To Envy
We've all been there. You walk into a Glendale house, maybe as part of a home show, maybe a new home in the neighborhood, but when you get inside you are blown away. Immediately you begin to want that house to be yours. Wouldn't it be nice if that was YOUR house? It can be when you bring Sunset Tile and Bath into the picture of home remodeling.
Utilizing their more than two decades of experience, Sunset Tile and Bath will transform your Scottsdale home into the one in your dreams. Updated flooring, new kitchen cabinets, expanded master bathroom, and other upgrades are all possible to update your home. We will work within your budget to transform your space so that when you walk in the front door, you have that same feeling, only this time you know it's your own home.
Choose Your Home Remodeling Contractor Carefully
There is no shortage of possible candidates to take on your Phoenix home remodeling project. Unfortunately, not all of them do the best work. This can be for a variety of reasons: they are looking to cut corners just to make some quick money, they don't really know what they are doing, or maybe they just don't have enough experience yet. Sunset Tile and Bath is a company that has been around for a long time. Staying in business for more than 25 years means you are doing things right and treating your customers how they should be treated.
Get the most out of your home by finishing, renovating, or remodeling your Surprise house or basement. Create your new media room, playroom, laundry room, or multi-use space for storage and living. Increase the value and comfort of your home by increasing your space through home and basement remodeling.