Are you building a house from scratch? Or are you planning a renovation? One of the most important parts of every house is its storage space. Our needs are constantly growing and our lifestyles are also changing which has led to the requirement for more storage facilities inside the house. That is why it is better if you can invest in good quality custom cabinets. We, at Sunset Tile and Bath, can be the right solution for you. We are an established and reliable company which has been in this field for more than 15 years now. We can provide you with a wide range of solutions, right from home renovation, kitchen and bath remodeling, custom cabinets, granite countertops, to even demolition and removal, structure and framing, drywall and texture, tile installation, and so on. We are known for our high-quality products and highly efficient and professional services. So, if you are based in areas like Scottsdale, Peoria, AZ, Phoenix, Surprise, AZ, or Glendale, AZ, then you can opt for us.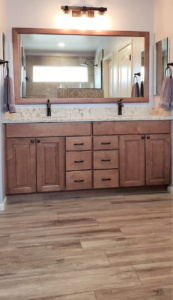 Here, we have put together a few benefits of getting custom cabinets in your house. Take a look. 
Reflects your taste and personality

 
Every house should be a reflection of their homeowners taste and personality. When you customize the cabinets, they can reflect the design and texture that you would want. You do not have to go with the style and design that other people have in their homes. This basically allows you the opportunity to create something more unique in your house. 
Another major benefit would be that you can save a lot of money if you go for customized options. You can get rid of the things that you do not want in your cabinets and pay for the thing that you actually need. This will save a lot of money which can be used elsewhere. 
So, if you are interested in our customized cabinets, contact us now.