Are you planning a home renovation? If you have been living in the same house for quite some time, then it probably is the right time to plan a renovation project. You will not only face certain kinds of damages in the house after a certain point in time but you will also need a new makeover for your home. Nowadays, there are many latest interior and exterior designs that you should try to further enhance the value of your property. Along with designs, you should make certain functional changes in the house which you will need due to the changing lifestyles that we have. One of these changes is getting custom cabinets for increased storage in your house. We, at Sunset Tile and Bath, can be the right choice for you. We are an established and reliable company that can provide you with a wide range of services, right from demolition and removal, structure and framing, granite countertops, and custom cabinets to even tiles, drywall and texture, and so on. We are known for our great quality products along with our customer-oriented approach. So, if you are from Phoenix, Scottsdale, Surprise, AZ, Glendale, AZ, or Peoria, AZ, then you can opt for us.
Here, we have put together a few benefits of designing custom cabinets. Take a look.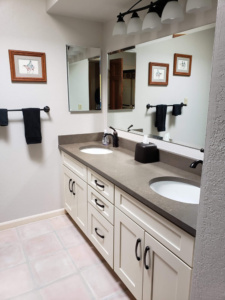 Better build
When you go for a ready-made cabinet, you will notice that the product is already built and you have no say in the materials. But if you make a custom-made cabinet, you will be able to choose the cabinet material which will be stronger and will be able to provide you with greater durability. When you are going to purchase something, you should make sure it, at least, lasts you for a long time.
Good design
You have to make sure that the design of the cabinet is also suitable for the rest of the interior you have in your house. When you go for a ready-made cabinet, you cannot choose the design. When you customize it, you can design it according to your taste and personality and make it compatible with the rest of your home décor.
So, if you are thinking of choosing us for your customized cabinets, contact us now.