6 reasons why you need custom cabinets 
Custom cabinets offer numerous benefits and can greatly enhance your living space. Sunset Tile & Bath offers custom cabinets at reasonable prices in and around Surprise, AZ, Vistancia, Phoenix, Scottsdale, Stetson Hills, Peoria, AZ. 
Here are six compelling reasons why you might consider investing in custom cabinets: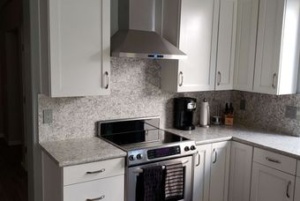 Optimal Space Utilization: Custom cabinets are designed to fit the exact dimensions and layout of your space. This means no wasted space or awkward gaps. They can be tailored to fit around obstacles like plumbing or electrical work, maximizing your storage potential.

 
Personalized Design: With custom cabinets, you have complete control over the design, style, and materials used. This allows you to match your cabinets to your existing decor or create a unique statement piece that reflects your personal taste and lifestyle.

 
Quality Craftsmanship: Custom cabinets are typically crafted by skilled artisans or cabinetmakers who prioritize quality and attention to detail. The materials used are often of higher quality than mass-produced alternatives, leading to sturdier and more durable cabinets.

 
Functionality and Organization: Custom cabinets can be designed with specific storage needs in mind. Whether it's a walk-in closet, kitchen pantry, or home office, you can incorporate features like pull-out drawers, adjustable shelving, and specialized compartments to keep your belongings organized and easily accessible.

 
Increased Home Value: High-quality custom cabinets can add significant value to your home. Potential buyers often appreciate the attention to detail and craftsmanship that custom cabinets provide, making your property more appealing on the real estate market.

 
Long-Term Cost Savings: While custom cabinets might have a higher upfront cost compared to stock cabinets, they can save you money in the long run. Mass-produced cabinets might need replacements or repairs sooner due to lower quality materials and construction. Custom cabinets, on the other hand, are built to last, reducing the need for replacements and repairs over time.

 
In summary, custom cabinets offer a combination of tailored design, efficient space utilization, high-quality materials, and enhanced functionality that can greatly improve your living environment and potentially increase your home's value. 
Please call us without any hesitation.