Are you setting up your own home? One of the most important parts Of your house would be the kitchen. This is where you prepare your meals and sometimes eat together as a family. but every kitchen must be clean and organized. This will increase the convenience of the homeowners. In order to keep your kitchen tidy and organized, you need to increase your storage units and order for custom cabinets. There are several kitchen essentials and ingredients along with utensils that would be lying on the countertop if these are not stored properly. We, at Sunset Tile & Bath, can be the right choice for you. We are a professional and reliable Company which has been in this field for a long time. We can provide you with a wide range of services, including demolition and removal, structuring, home construction, design and consultation, kitchen and bath remodeling, plumbing, electrical, customized cabinetry, and much more. We are known for our quality products and dedicated services. So, if you are from Phoenix, Scottsdale, Surprise, AZ, Peoria, AZ, or Glendale, AZ, then you must choose us.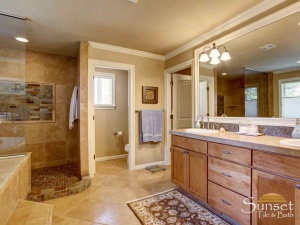 Here, we have put together a few things to check about your custom cabinets. Take a look. 
You have to make sure that the measurements of the cabinetry is just the way you had ordered. You must know the purpose of the cabinetry is more storage space and if the size of the cabinetry is not right, then all your kitchen essentials will not be accommodated. In order to avoid last minute hassle of exchanges, you should check the size first. 
The overall look and feel of the kitchen interior will depend on the customized cabinets too. That is why you need to choose the right style of cabinets which will complement the rest of the kitchen interior too. You must check if the style and texture of the cabinets are in accordance with your taste and personality. 
So, if you want to hire us for your custom cabinets, then contact us today.