Walk into your kitchen, or your bathroom, and take a look at your cabinets. What do you see? Do you see cabinets that are tired, that could use updating? Sunset Tile and Bath can not only give you updated cabinets, but they can make custom cabinets just for your Glendale home!
But wait, I hear you say, aren't those expensive? I couldn't afford to have custom cabinets, that's only for huge homes for wealthy people. Nope, that's not so. Custom cabinets are for every Surprise home, because every home is unique, just like every homeowner is unique.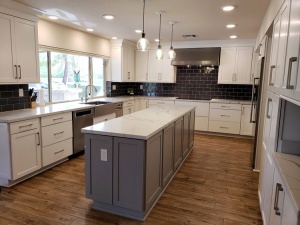 What Are Custom Cabinets?
Most people are familiar with standard cabinets that you can buy at home improvement stores and other retailers. They come in standard sizes and you need to come up with creative ways to make them fit into your kitchen or bathroom space. Custom cabinets, however, are measured to fit into your Phoenix space. Not only that, but they are designed in the way that you want, taking into account any special features that you may want, such as a dedicated narrow spice cabinet.
All cabinets still need to be measured, cut, and assembled whether they are standard or custom. So that is the same. The big difference is that you can have specific types of cabinets in your kitchen where you want them, and the cabinets will fit perfectly because they have been designed and measured for your space.
What Options Do I Have With Custom Cabinets?
This is perhaps where much of the fun comes in when you have custom cabinets built for your Scottsdale kitchen or bathroom (or any room, really). You aren't limited to a particular species of wood. If you want to have walnut cabinets, you can get them. If you want custom metal panel inserts in the cabinet doors, you can do that. Frosted glass fronts? You bet. Frankly, if you can imagine it, it can be done for you. And you can have the doors open in the way that you want, so they can be hinged on the left, the right, or from the top, and this can be great if you don't want cabinets to open a certain way. You may want to have extra tall cabinets in certain spaces, and shorter cabinets in other places. Your options are only limited to your imagination, and Sunset Tile and Bath can help you in all aspects of custom cabinets for your Peoria home.