A custom bathroom remodel can make your bathroom more functional, appealing, and add value to your property. Renovating your bathroom can provide you with a space that is perfectly suited to your needs and stylistic preferences. The versatility of custom bathrooms is what makes them so appealing. Having a functional and inspiring bathroom is an investment you will be glad you did in the future.
Let us look at the 3 benefits of having a custom bathroom: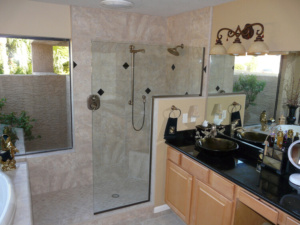 Additional space
One of the most significant advantages of installing new custom cabinets is that it expands your bathroom. Your new extra room will seem more stylish and be more practical at the same time, with anything from floor-to-ceiling cupboards to large scope cupboards with vanities. This means that there will be no truly preparation or sanitation things lying around your restroom.
Bathroom with a Personal Touch
Professionals will suggest that your new cabinets will be designed according to your personal preferences. They can be any height, width, or shade. This allows you to be more creative and in touch with specific aspects of your home.
Exceptional Fit
Another advantage of rearranging furniture is that it allows you to have cabinets that are perfectly tailored to your needs. You won't have to deal with sharp corners or off-kilter bureau entryways any longer.
At Sunset Tile & Bath, we'll take care of everything, from minor jobs like backsplashes to complete bathroom renovations. We have the knowledge and skills to create the perfect location for you. As a family-owned and operated business, we place a premium on delivering high-quality work at a reasonable price, as well as exceptional client service at every stage of the design and fabrication process. Our services are located in Phoenix, Scottsdale, Peoria, AZ, Surprise, AZ, and Glendale, AZ areas. Contact us at 602-789-8700.