For many of us, the bathroom is the place to spend a considerable amount of time relaxing either before starting the day or at the end of her Tiresome day. Sunset Tile and Bath are here with a variety of quality services to uplift and change the look of your bathrooms and kitchens. For the past two decades, we have been offering services like custom cabinets, granite countertops, demolition, removal, structure framing of various parts of your house, custom bathroom, tile installation, and various other services. Being a local and regional company helps us to understand the needs and requirements of the people residing in and around Phoenix, Peoria, AZ, Scottsdale, Surprise, AZ, Glendale, AZ.  Our men provide top-notch service and ask the right kind of questions to help you get the bathroom of your dreams.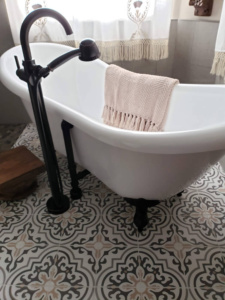 Below we have mentioned 2 major advantages of having custom bathrooms. Take a look.
Pleasant themes for a great appearance
There are various remodeling ideas in the market today as far as bathroom renovation is considered. the entire theme of your bathroom can be changed with unique toilet accessories and the latest interior designs. Whether you want new tiles or one to make use of every excess area in your bathroom to increase the functionality, our men will be by your side to come up with unique patterns and designs as per your requirements and needs.
Deviate from the tradition
If you are someone who does not want a traditional bathroom with customary looks, our designers will sit with you and come up with Taylor meet solutions so that your dream can be turned into reality. You can convert your necessities into a luxury habit by getting a whole new pattern basin, elegant taps, showers, and various other suitable items and interior artists to give your bathroom a new shape.
So, if you are looking for companies for your custom bathrooms, you can contact us.