It's not enough to have a budget for your kitchen remodeling project; you also need to know how much of it you should set aside for various factors. Sunset Tile & Bath shares the following tips for working your way towards your dream kitchen and properly planning your budget.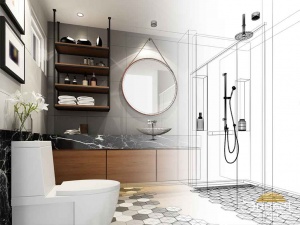 Know how long you'll stay in the house – If you intend to live in your home for five years or less, think of this project as a real estate improvement. If you plan to stay for longer, look to your family's comfort.
Consider your neighborhood – Don't overspend for this renovation and make your kitchen top-class when the surrounding houses are rated average or middle-income. You'll lose money in the long run.
Stick to your budget – A good rule of thumb is that the cost of a kitchen remodel should be around 5-15% of the total home value. Plan wisely to avoid overspending. Search for kitchen remodeling ideas and check local home improvement stores for prices, being sure to stay within your allotted budget.
Here's a standard budget breakdown for a kitchen renovation:
Labor: 25-35%
Cabinets: 25%
Appliances and ventilation: 15%
Countertops: 10%
Lighting: 5%
Floors: 5%
Fixtures and plumbing: 5%
Additional finishes and budget cushion: 10-15%
Labor will eat up the biggest part of your budget at 25-35%. Finding the right general contractor, a designer that understands your preferences and skilled professionals to work on your kitchen can make or break your project. Once an experienced crew is found to help with the project, the rest will be a breeze.
Cabinets take up a fourth of the total budget. You may either install new cabinets or consider refacing the old ones to save on expenses. Either way, the custom work involved does push the price up. Other expenses like appliances, countertops, lighting and plumbing comprise the other half of the budget. Make a spreadsheet to stay on top of things.
When you're ready for that dream kitchen, call Sunset Tile & Bath. We're kitchen remodeling contractors known for our quality work and best customer service. Call us at (602) 789-8700 to speak with our kitchen experts.
Kitchen remodeling doesn't have to break the bank. Discover how much you should set aside for your much-awaited kitchen remodeling project in this post.