Do you notice any kind of damage in your bathroom? Being constantly exposed to water it is quite natural that you will notice damages in your bathroom faster than in the other parts of the house. Moreover, interior trends are changing very soon these days. If you want to upgrade yourself according to modern interior trends, you have to carry out a bathroom remodeling service from time to time. And when you remodel, you can also fix the damages that you notice in your bathroom. We, at Sunset Tile and Bath, can be the right choice for you. We are one of the most established and experienced companies which have been in this field since 1994. Right from demolition and removal, structure and framing, and drywall and texture, to even granite countertops, custom cabinets, shower enclosures, tile installation, and so on, we can help you with everything. So, if you are from areas like Phoenix, Scottsdale, Surprise, AZ, Peoria, AZ, Or Glendale, AZ, then you can rely on us.
Here, we have put together a few tips that will help you in your bathroom remodeling. Take a look.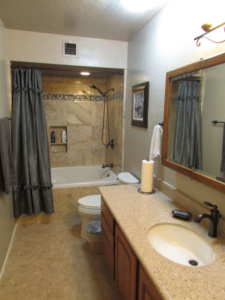 Over some time, the faucets have also improved themselves and upgraded according to the latest technology. If you adapt to the latest technology, life will become much easier and convenient. That is why you need to change the faucets of your bathroom and enjoy a modern bathroom experience.
You must understand the importance of a neat bathroom. The more organized and neat your bathroom is, the more hygienic it will be. That is why you should invest in bathroom vanities to keep all your bathroom essentials organized into different categories.
So, if you want to hire us for your bathroom remodeling, contact us now.