Have you been using the same bathroom for a long time now? Then, you must be facing a lot of problems with your bathroom faucets? Even the design will be quite outdated. You should totally go for a bathroom remodeling service so that you can make your bathrooms more functional, efficient, and convenient. And as an added bonus, you will also get a new look and feel for your bathroom. We, at Sunset Tile and Bath, can be the right choice for you. We are one of the most established and reliable companies which have been in this business for more than 20 years now. We bring you a wide variety of services, starting from demolition and removal, structure and framing, drywall and texture, electricity and plumbing to even design and consultation services, granite countertops, glass shower enclosures, and so on. We are known for our wide variety of services under the same roof along with our customer-oriented approach. So, if you are located in areas like Phoenix, Peoria, AZ, Surprise, AZ, Scottsdale, or Glendale, AZ, then you can rely on us.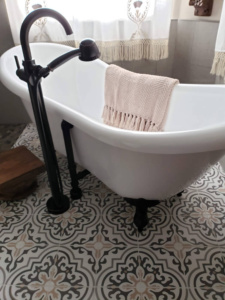 Here, we have put together a few questions to ask a company offering new bathroom remodeling services. Take a look.
How much time will it take to complete the remodeling?
One of the most important questions you need to ask is the duration of the remodeling process. This will obviously depend on the kind of work you want in your bathroom but you can still ask for an estimated duration. This will help you plan your schedule accordingly.
After looking at the changes you need in your bathroom, any company can help you with an estimated rate. It is important to take this estimate from them in order to understand if the cost will be suitable for your budget or not. You may also compare these quotes with others to choose wisely.
So come after getting these answers, if you're thinking of choosing us, contact us now.