If you have gotten tired of your outdated brass faucets or traditional shower area, maybe it's time to uplift the look of your bathroom to increase its aesthetic as well as its functionality. Sunset Tile and Bath are here to provide you with bathroom remodeling services so that you can reinvent the most loved spaces in your home. We have an experienced team of specialists who excel in building beautiful, custom bathrooms and in no time can upgrade your existing bathroom and give it a complete makeover.  Being a family-owned and operated company, we treat each of our customers in the regions of Scottsdale, Surprise, AZ, Phoenix, Glendale, AZ, Peoria, AZ as our own and therefore provide excellent customer service with state of art products all at honest prices with no hidden cost.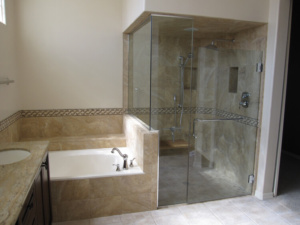 Below we have mentioned the 3 most common reasons for a bathroom remodel. Take a look.
Increase the value of your home
It might sound odd but remodeling your bathroom can drastically increase the value of your home. If you plan to sell your house in the future you will get a higher amount than you would have earlier. renovating a bathroom always proves to be a good return on investment then your house will be easier to sell.
More luxurious and modern
Over time, one needs to update their bathroom features in order to make life simpler and easy. With the countless innovation with regards to sink, shower cabinets, toilets you can uplift your bathroom and make it a luxurious space for you to relax. It can be the most attractive, enjoyable, and functional place in your house.
Add more space
This is one of the most common reasons why people want to renovate their bathrooms. Additional cabinets extra area under the sink or any other way to make your bathroom more spacious is always a welcoming move.
So, if you want to change the design or add additional storage space in your bathroom, you can give us a call at 602-789-8700.