Sunset Tile & Bath has been upgrading people's bathrooms for years, and we want to be your option for your bath remodel project. We'll take on everything from modest backsplashes to complete bathroom makeovers. Your bathroom is a crucial space in your home where you begin and end your day, relax and unwind, and escape the stress and bustle of the outside world. Is the bathroom you have now providing you with everything you desire? Do you have the necessary amount of space, comfort, and functional flow? Have the competence and know-how to create the ideal environment for you. We've been trained to assist you in determining what's achievable and how to turn your current bathroom into a modern bathroom that meets your requirements. We have the competence and know-how to create the ideal environment for you.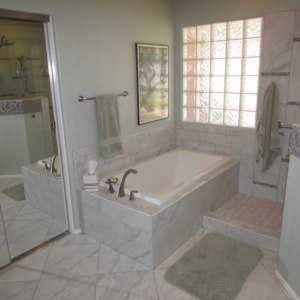 Let's take a look at the Sunset Tile & Bath bath remodel difference for yourself:
Sunset Tile & Bath has been refurbishing bathrooms for over 25 years. As a family-owned and operated business, we take pleasure in providing high-quality work at a fair price, as well as exceptional customer service throughout the design and construction process. If not, contact one of our specialists to see what they can do for you.
We understand that there are many renovation businesses to pick from, but we also understand what it takes to be a local company pleased to serve the Valley of the Sun's citizens. We're a local small firm with decades of experience doing high-quality work, and we know how to ask the right questions to help you design the bathroom of your dreams.
Give us a call at 602-789-8700 for Phoenix, Surprise, AZ, Scottsdale, Peoria, AZ, and Glendale, AZ areas to talk with one of our bathroom design pros to learn more about how Sunset Tile & Bath can assist you with your bathroom remodeling project.