One of the most frequently remodeled areas of the home is the bathroom. Nowadays, we're no longer limited to a spartan-looking, immaculately white bathroom with unflattering lights. When talking about a modern bathroom home improvement project, we're presented with a myriad of choices and options that have a lot more 'wow' factor. The possibilities are endless! To start you off, Sunset Tile & Bath shares three basics to focus on: feeling, function and form.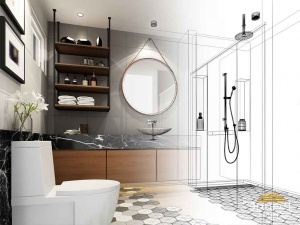 Feeling – Decide early on what you want for this bathroom. Are you more into a modern hotel feel, easy rustic country charm or a Scandinavian-inspired bathroom? Knowing this will make it easier for you and your designer to come up with a layout and find ways to get creative with space.
Function – Function is the heart of bathroom remodeling because it helps determine your use of the space. You'll need to come up with a plan for the layout that incorporates all the essential elements like plumbing, lighting, ventilation and storage. Setting realistic goals for this compact space is important. An experienced fitter will be able to help you with the more technical aspects of designing the layout.
Form – Determining form is exciting since it deals with the more creative side of the project, in which you get to fill up your space with the colors and design elements of your choosing. You can start by selecting fixtures that blend well with your space. New and exciting design ideas to try are oversized floral patterns or other unique designs on a patterned statement wall, bold black bathrooms and industrial-inspired exposed shower plumbing. Then again, one can never go wrong with classic neutral colors or a spa-like theme.
Find out exactly what you need and want by looking around showrooms, checking out boutique hotels and gathering together all your design inspirations. Lastly, spend some time scouting for possible bathroom remodeling companies that will be a perfect fit for you and your needs. Sunset Tile & Bath is a trusted, qualified local company that does excellent work and provides even better customer service. For a free consultation and estimate, give us a call at (602) 789-8700.