Kitchen Design, Custom Cabinets, Kitchen Remodeling, and Custom Kitchens in Phoenix, AZ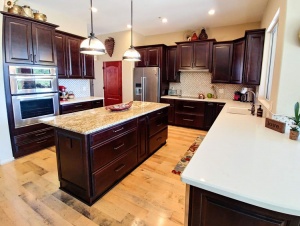 Welcome to Sunset Tile & Bath. We've been in the Phoenix area for 35 years bringing the best in custom kitchens to local homeowners. A quick look at our reviews and you'll see we've done some of the best local kitchen remodeling projects in the area. From standard remodels to custom kitchens requiring unique kitchen designs and custom cabinets, we've done it all in the quality we would expect in our own homes.
We are the start-to-finish company from the design to the final finish carpentry. Your kitchen remodeling is a large project, so we make each step as smooth as possible. All of the services needed for your kitchen remodeling are handled by our team including many of the larger aspects of the design and remodeling.
Custom Cabinets in Phoenix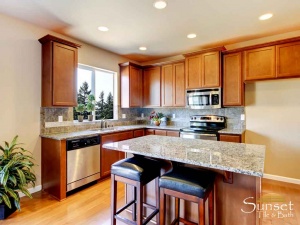 Don't shrink away from the thought of custom cabinets until you hear what it can do for your kitchen design. Your kitchen may have corner cabinets that are hard to get into and just not utilized. A new kitchen design might be able to solve this problem as well as include a custom island that fully utilizes space for seating, storage, food preparation, and more.
When going through the investment of a kitchen remodeling, make sure you are also getting the design that makes the most of your space and meets the way you are hoping your kitchen will function for you. Homeowners are spending more and more time in the kitchen as the uses for a kitchen change and that's good! We commonly hear our clients talk with warmth about quality time with family and friends or the entertaining and home cooking they plan to do once their custom kitchen is finished. We are more than happy to help our Phoenix clients get the most out of their kitchen remodeling so it becomes a place that not only transforms how they use their kitchens but also how they spend time with the people they love.
Kitchen Remodeling in Phoenix, Arizona
Remodeling your Phoenix home kitchen may have benefits beyond the initial improvement to aesthetics and function. Kitchen remodeling can be a great way to increase the value of your home. Phoenix home values are quite reasonable as compared to other parts of the country. The median listed price of Phoenix homes on the market is $289,900 and the final median sale price is $254,700. However, this discrepancy between the list price and sale price, as well as affordability, may change as the Phoenix is listed as a "hot" market. The median Phoenix rent was listed in 2020 as $1,475.
The growth in Phoenix is attributed to two things – the return of WWII vets who had trained in the Phoenix area and the invention of air conditioning. Air conditioning incorporated into new construction in the 50's created such a boom that more construction happened in Phoenix in 1959 than from 1914 to 1946.
To learn more about getting your own custom kitchen, contact us today and we'll give you a free project estimate.