Peoria Home Renovations & Remodeling
Our home remodeling in Peoria creates so much customer satisfaction that customers often call us back for additional home renovation projects. Our Peoria customers love Sunset Tile & Bath's changes for their homes from one remodeling project to another. But don't take just our word for our top-of-the-line home renovations in Peoria; check out our high ratings on Google, Yelp, and Angie's List.
Home remodeling projects can incorporate many different changes in your home. Think about how your lives have changed or what you would like added to your home. Do you need an office? A hangout room for the kids? A media room? As your life changes, your home should too so that it always works for you. Moving to a new home to get the space and rooms you want isn't always an option. Instead, talk to Sunset Tile & Bath about how we can rework your Peoria home. With the way housing pricing is rising, adding to your home or home remodeling may be the best option.
Kitchen and Bathroom Design and Home Renovation in Peoria, AZ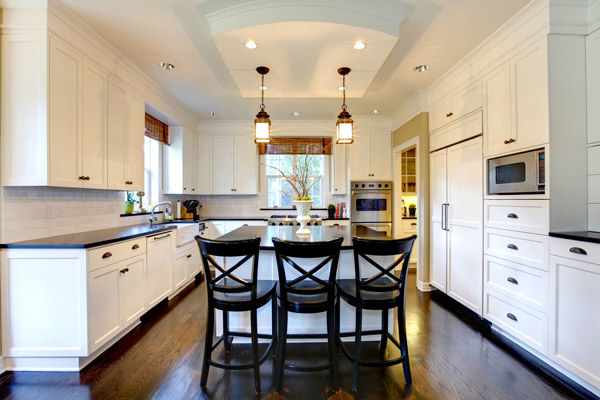 So how did we get such top customer satisfaction and ratings for our home renovation services? One part is our excellent work ethic. This dedication to our work comes from Sunset Tile & Bath being a family-owned and operated company. Our lives and livelihood are integrated with the company, and we love what we do. The other part is that we are master tilers and plumbers. We can't stress enough the difference that custom tile installation does for any bath or kitchen remodeling. The proper cutting, preparation, laying, and finishing make the difference in creating a professionally finished kitchen and bath.
Along the way, we have also added an excellent gallery of cabinet choices. Updating your kitchen and bath as part of your overall home remodeling in Peoria is a great way to give your entire house a facelift. Think of the difference a professionally remodeled kitchen would make for your family – space for entertaining, eating, storage for clutter, and more. And with Sunset Tile & Bath, you can invest in genuinely stylish and designer tile, knowing it will be installed correctly.
Call us today for your free estimate or stop by our showroom.
Home Remodeling in Peoria, Arizona
With an area that has rapid growth, a shortage in housing tends to occur. Peoria has experienced rapid growth in the past decades, which could put a squeeze on the housing market. From 1990 to 2000 to 2010, the growth rates were 316%, 113%, and 42%. One way to get the house you want in a competitive housing market is to find a home that you are willing to do home remodeling to make your dream home.