Phoenix Home Remodeling Services
So you have a house in Phoenix you love. Maybe it's your neighborhood or the memories you made, or perhaps you have no desire ever to move again. So your home is perfect, except for a couple of things. There are always some things a homeowner would like to upgrade in their home. Unless you've moved into new construction with everything exactly picked out, you probably have some things you'd loved to change in your home. Would you like more storage in the kitchen? An area to entertain guests? An open concept that allows you to be part of the action even while cooking? Whatever types of home remodeling in Phoenix you are looking for, Sunset Tile & Bath is ready to help you accomplish it. We have been in business since 1994, assisting residents of Phoenix with their home renovation needs.
Custom Bathroom & Custom Kitchens in Phoenix, AZ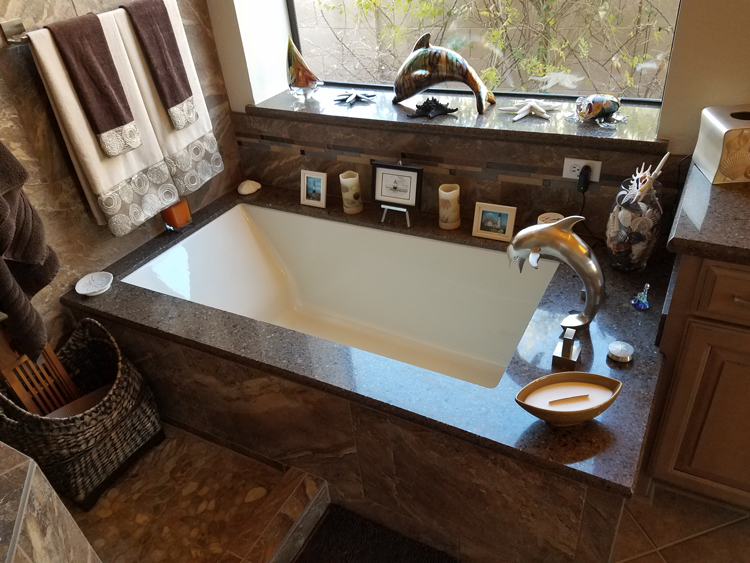 Sometimes people dreed getting a custom bathroom or custom kitchen done. They are worried about the length of time it will take or what kind of disruption the home renovation work will cause to their lives. We're happy to tell potential customers looking for custom bathroom and custom kitchens in Phoenix that getting any home remodeling in Phoenix is easy with Sunset Tile & Bath. Two of the main craftsman projects, tiling and plumbing, are done by our in-house team. Having these craftsmen available means we control the scheduling and are agile when any changes happen. Also, we have a showroom you can look at the different options in tiling, cabinets, flooring, and more. You can also meet the various project managers, and we can work out a schedule.
We know home remodeling projects can be stressful in Phoenix or anywhere. But that is why we have worked hard to make our process as seamless and hassle-free as possible. From your initial consultation and estimate to the finishing touches, we want to make sure our customers are as happy as possible from start to finish.
When you're ready for your next home remodeling in Phoenix, give us a call so we can come out for a free consultation and show you what we can do for you.
Home Remodeling and Home Renovations in Phoenix, Arizona
You probably won't be surprised to hear that Phoenix is the most populous city in Arizona. However, did you know the capital city is also the fifth-most populated in the country? Also, Phoenix is the only capital city with more than one million residents.