Home Renovation in Glendale, AZ
When you come into your Glendale home, are there some things that you would like to change about it? Might you want a light somewhere that doesn't have it currently? Could you use some additional outlets in a few rooms? Whatever the updates are that you would like to do, Sunset Tile & Bath is ready to help with your home renovations. It might be a new backsplash in your kitchen or undercabinet lights in the bathroom. The team at Sunset Tile & Bath will use their years of experience to offer helpful suggestions and provide insights as to what others have done with their home renovations.
Home Remodeling, Bathroom Remodeling, and Kitchen Remodeling in Glendale, AZ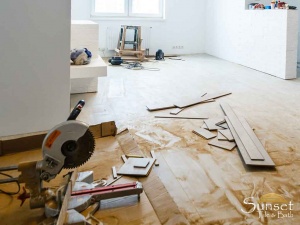 When you are looking to do home remodeling, two of the most important rooms that you should look at are the kitchen and bathroom. Unless you already have a large bathroom, you likely would appreciate even a little more room in your current master bathroom. And even if there isn't room to expand your bathroom, there are ways to create more space to have the kind of bathroom that you've wanted. Upgraded fixtures, lighting, and more will make your bathroom a relaxing space that you enjoy.
Kitchens are a gathering place for friends and family, and when you are remodeling your kitchen you want it to be a functional place that also is inviting. Now is the time to rearrange the position of your appliances like your stove, dishwasher, and other things. Have you wanted more counter space, or wanted a place for your smaller appliances like the toaster and blender? Sunset Tile & Bath can help you create spaces for these useful items while also keeping them out of the way unless needed, providing you the counter space for other activities. Let them help show you what is possible with your space and you will be thrilled with your new kitchen space.
Home Renovation in Glendale, Arizona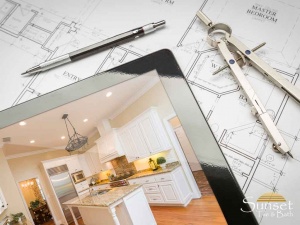 Sometimes it is the small things in a Glendale home renovation that can make a big difference. Changing out all of the drawer and cabinet pulls can produce a big change in your kitchen or bathroom. Adding tile to your shower or bathroom floor during home renovations can make that room be transformed. Or you might change how some of your kitchen cabinets are used, making more efficient use of your space. Contact Sunset Tile & Bath today to help make your home renovations a reality.
In 1891, Burgess Hadsell worked with William John Murphy to bring 70 Brethren and River Brethren families to Glendale to form a temperance colony. Soon settlers, attracted by the town's ban on alcoholic beverages, continued to arrive. The construction and commercial applications of the Beet Sugar Factory in 1906, also contributed to the growth of Glendale. Though the operations of the factory only lasted until 1913, it played an important role in the increase of immigrant and migrant settlers in the city.