Home Remodeling, Custom Bathroom, Custom Kitchens, and Custom Cabinets in Peoria, AZ
Many clients are not aware of what part of home remodeling projects takes the longest. The truth is, contractors have to coordinate the different craftsmen that work on the different aspects of home remodeling projects, as well as the materials. And here is one of the best benefits of getting your custom bathroom or custom kitchen from Sunset Tile and Bath: We have access to the most common home remodeling and home renovation materials, as well as partnerships with manufacturers of custom cabinets.  We also are plumbers, tilers, remodeling contractors, and more which gets your project closer to completion faster. Other services are done as needed with close craftsmen partnerships we have built over our 35 years in business.
Demolition & Removal
Drywall & Texture
Glass Shower Enclosures
Granite Countertops
Plumbing & Electrical
Structure & Framing
Tile Installation
Design & Consultation
Custom Bathroom, Custom Kitchens, and Custom Cabinets in Peoria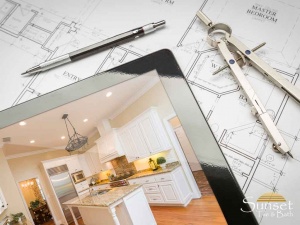 Many clients think their home remodeling project doesn't need to include custom cabinets. But custom cabinets help get the most out of the space and goals for your new design. A custom kitchen can bring the best flow and functionality to your design and available space. And a custom bathroom brings the rich customized look you want, and function you need.
As the purpose of your kitchen changes from simple food preparation to an area that functions as an entertaining space, the design for the flow, counters, and seating also changes. Kitchen remodeling should consider the design and function of the space.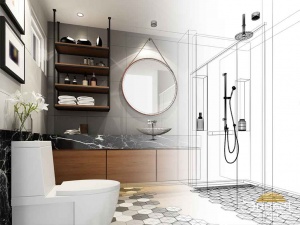 The same can be said for bathroom renovations. If a bathroom is going to get heavy traffic and use, then the setup needs to be different from a hallway guest bathroom that doesn't require the same storage needs. The vanity in a guest bathroom may only need space for paper products while the main bathroom needs space for more personal items and linens, his and hers sinks, and maybe even separate tubs and showers that work well for aging in place. When making the investment in home remodeling and home renovation, your goal should be to get the customized kitchen or bathroom that will bring whatever you are looking for, whether that be style, function, or design.
Home Renovation in Peoria, Arizona
Our services go beyond just bathrooms and kitchens. As a remodeling contractor, we can handle a variety of home renovation projects for all the rooms in your house: laundry rooms, basement living spaces, rec rooms, home office spaces, and more. Sunset Tile and Bath can assist you with any home remodeling project you need.
Located in nearby Glendale, we are proud to offer these services in Peoria, AZ, as well as the surrounding areas. The name Peoria may sound familiar to many people and there's a good reason. Peoria, Arizona is actually named after the more famous Peoria, Illinois. The name may sound out of place because it actually is a version of the Illini word for prairie fire. The Arizona Peoria stretches out over two counties, Maricopa and Yavapai, with an estimated population of 172,000. With better weather than its Illinois counterpart, Peoria, Arizona is the spring training location for the San Diego Padres and Seattle Mariners.
Life in Peoria can be a dream come true with the right home remodeling contractor on your side. To learn more or request a free estimate, contact Sunset Tile and Bath today!