Kitchen Remodeling, Kitchen Design, and Custom Kitchens in Scottsdale, Arizona
Having an inefficient kitchen can be tiresome and frustrating. But you don't have to move to get the kitchen you deserve! A kitchen remodeling project can get your kitchen looking and feeling brand new again. In fact, custom kitchen remodels can make your kitchen completely unrecognizable all together.
Serving Phoenix, Arizona, and the surrounding areas, our team of designers and contractors work hand in hand to produce thoughtful custom kitchen designs that your neighbors will envy. From start to finish, we handle all aspects of kitchen remodeling including plumbing, electrical, cabinetry, countertops, and tile. Contact us today to get a free project estimate for your kitchen remodel today!
Kitchen Remodeling and Kitchen Design
Kitchen remodeling projects start and finish with thoughtful kitchen design. At Sunset Tile & Bath our design team gets to know you personally to help you create an attractive custom kitchen that meets your needs and exceeds your expectations. In addition to updating the appeal of your home, kitchen remodeling serves many practical purposes, such as:
Increasing Functionality- One of the main benefits of kitchen remodeling is increasing the functionality of your home. By adjusting the overall layout of your kitchen, you can create a more practical and open space that accommodates the needs of your family and increased the efficiency and flow of your living space.
Energy Saving Benefits- Replacing obsolete appliances not only can save you money in the long-run, but it can also make your kitchen safer. Unlike outdated equipment, new kitchen appliances have energy-saving properties and safety features that are ideal for the environment and your family.
Increased Home Value- Kitchen remodeling can dramatically increase the value of your home. In some cases, an attractive kitchen can be the deciding factor in closing a sale, making your home a prime piece of real estate.
Custom Kitchens in Scottsdale, AZ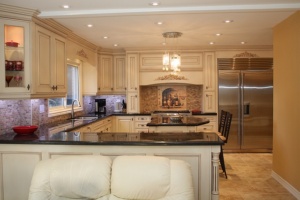 Known as an ideal destination for vacationing, Scottsdale is a great location to unwind and enjoy the beauty of nature. With various recreational options, visitors can enjoy a range of activities from spa days, golf retreats, and so much more! But for residents that are lucky enough to call Scottsdale home, the city has proven to be an ideal location for retirees, families, and singles looking to live a comfortable lifestyle in a vibrant location.
At Sunset Bath & Tile we help Scottsdale residents create custom kitchens through thoughtful and innovative kitchen designs. Working with you to establish your tastes and preferences, our design experts help you create the custom kitchen of your dreams at a price you can afford. You don't have to relocate to get what you want out of your kitchen. Whether you're moving into a new home or your kitchen is old and outdated, we help you update the look and feel of your kitchen for a customized look that's tailored to your personal tastes. Contact us today to get a FREE project estimate for your custom kitchen!