Custom Kitchen Cabinets and Bathroom Cabinetry in Phoenix, Arizona
Call us at (602) 789-8700 for more information about our kitchen and bathroom design services.
We design custom cabinetry to add function and beauty to your kitchen and bathroom. With our kitchen remodel services, we uplift the look of your space based on your distinct requirements.
Our professional contractors create tailor-made cabinet design ideas that complement the rest of your interior décor. Bathroom remodeling projects involve concerted attention to detail when working on various parts of your storage solutions, including cabinet doors.
Whether you want cabinet installation in your family room, kitchen, or bathroom, Sunset Tile & Bath offers premium cabinet storage solutions. We provide easy access, enough storage space, and use premium materials with each kitchen remodel project.
Custom cabinets in Phoenix, AZ, can give your interior space a complete makeover. We renovate odd-shaped bathroom or kitchen layouts or designs and work on hard-to-reach storage spaces. Our goal aims to ensure that you make the most of your kitchen and bathroom design.
Contact us to design custom cabinetry for your home or office in Phoenix.
Custom Cabinets for Phoenix Kitchens and Bathrooms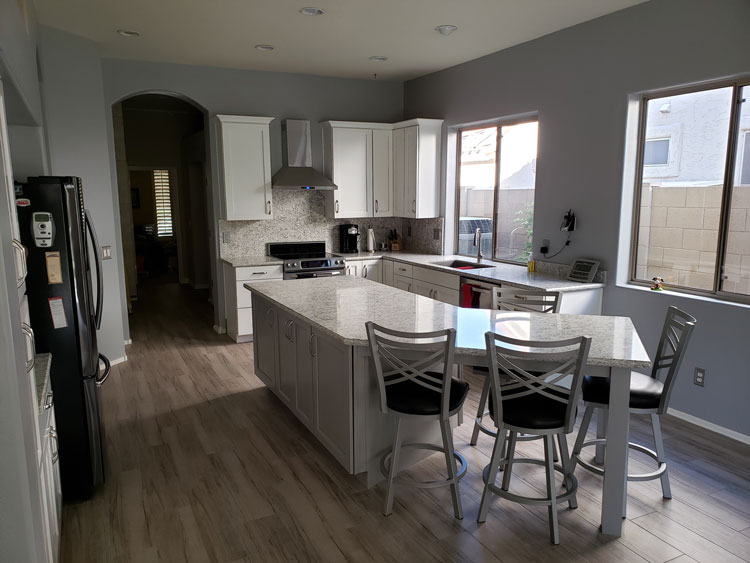 Homeowners and business owners look for more than just custom cabinet solutions in their bathrooms and kitchens. We provide bathroom remodeling and kitchen renovation services to meet the needs of our customers in Phoenix and the surrounding areas.
Apart from revamping tiles and various surfaces in your home, we also design stylish cabinet solutions for enhanced appeal and functionality of your space. The high-quality materials we use to design and create high-end cabinets ensure they will last for years.
Our professional designers and contractors make good use of available space in your kitchen or bathroom for clutter-free living. We give you ease of access to your cabinets and ensure they deliver a soft close for prolonged use.
Contact us for cabinet installation in Phoenix, AZ, to improve the functionality of your space.
Kitchen and Bathroom Cabinet Design and Installation in Phoenix, AZ
Sunset Tile & Bath has been designing, creating, and installing custom cabinets for over four decades. Apart from the extensive experience, we have gained in the industry, we use high-quality materials and deliver premium finishes during bathroom and kitchen remodel projects.
Phoenix is a large city in the U.S. with a high population of more than 1.6 million people. The city began in the early 1800s as an agricultural community but has grown to become a modern city with a diverse population. It enjoys a thriving tourist industry and is also home to outdoor activities, cultural and performing arts, festivals, and much more.
Contact Sunset Tile & Bath today at (602) 789-8700 to give your kitchen and bathroom design a facelift with custom cabinets in Phoenix, AZ.