Custom Cabinets, Bathroom Remodel, Kitchen Design, Kitchen Remodeling, and Home Renovation in Surprise, AZ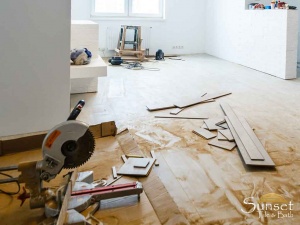 You've come to the right place for your next home remodeling project in Surprise. Located in nearby Glendale, we've been completing quality bathroom remodeling and kitchen remodeling since 1986. We started as contractors for kitchen and bathroom renovations but started adding onto our capabilities as we saw the need to bring the quality aspects customers, and we, expected. We now do the design, tiling, and plumbing. All the other aspects we take care of for you including:
Demolition & Removal
Drywall & Texture
Glass Shower Enclosures
Granite Countertops
Plumbing & Electrical
Structure & Framing
Tile Installation
Design & Consultation
And, we expect nothing but the best from the craftsmen we work with. Look over our before and after pictures, read our reviews, and talk to references. You'll find our work is second to none, even for the most tailored custom bathrooms and custom kitchens requiring changed layouts.
Kitchen and Bathroom Design in Surprise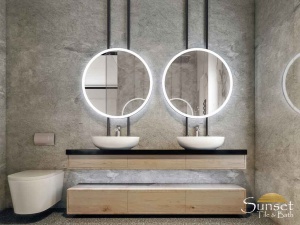 Kitchen and bathroom design is a fun part of home renovations. Bring your ideas and tour our showroom to see what you can incorporate. Our designers may have ideas you haven't even thought of. They are experts are finding solutions for tough spaces through the incorporation of custom cabinets. You need to take advantage of all the available space you have, let our experts give you some options. This is especially true in kitchen design where custom cabinets can give your Surprise kitchen a fully designed style with great functionality.
Bathrooms are another area where our design experts excel. Change up your bathroom remodel with a tub-to-shower conversion, install high-end sinks or improve the storage space. So many conveniences can be added to a bath remodel and our experts can show you how. Just let us know how some changes could improve your functionality and we'll find the solutions for innovative kitchen and bathroom designs.
Home Remodeling in Surprise, Arizona
How the city of Surprise got its name is an interesting story. The original settler, Flora Mae Statler, stated she would be surprised if the city ever amounted to much, and that's why she named the city Surprise. Flora sure would be surprised at what her little city has become. From a population of 30,848 in 2000 to 117,517 in 2010, the increase of 281% shows the popularity of what was once a small city.
Like other nearby cities, Surprise is the spring training center of various major league baseball teams. Both the Kansas City Royals and the Texas Rangers spend their spring training in Surprise.