Bathroom Renovations in Phoenix, AZ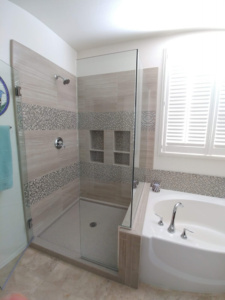 Websites and other places like to show huge bathroom with stunning views, but often the associated costs are more than what you would like to invest for your home in Phoenix, AZ. Instead, our team can offer you some budget-friendly bathroom renovation ideas when you call us at Sunset Tile and Bath.
You don't need to spend a lot of money on your bathroom in order for it to become the attractive and functional room that you know it can be. Starting with a quality design utilizing our team and their experience will provide you with the right end result that won't break the bank but will make you smile. Contact us today to get started on your bathroom renovations.
Budget-Friendly Bathroom Remodeling in Phoenix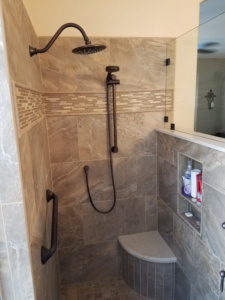 When you are looking for budget-friendly bathroom renovations, one option to look at if you have tile is to change out the grout color. Grout only lasts for so long, and if it is time to update your grout you could look for a different or contrasting color to help change the look of your bathroom. Another option for a smaller bathroom or one with limited counter space is to add a niche near the vanity to provide additional shelf space without taking up more space and making the room feel smaller.
Other options that are budget-friendly while also good for smaller bathrooms or powder rooms is to use a pedestal sink instead of a full vanity. The slimmer profile helps the room to feel larger and also provides additional floor space for a waste basket or other items. There are many small details in a bathroom that can make a dramatic impact on how your bathroom looks and feels, and many of them don't require an extensive budget to make happen.
Custom Bathroom in Phoenix, Arizona
Doing things for your bathroom remodel using off-the-shelf parts is fine, but sometimes you want to have a custom bathroom with features you don't always see. Doing this also doesn't need to cost more than the rest of your home if you do thing smartly and using a different approach. Talk with our team about your Phoenix, Arizona bathroom ideas and we can help design a custom bathroom that will have a budgeted cost that you can live with. Talk with Sunset Tile and Bath today to learn more.
You don't have to spend an arm and a leg just to get the bathroom renovations you seek. The town grew during the 1870s, and President Ulysses S. Grant issued a land patent for the site of Phoenix on April 10, 1874. The railroad's arrival in the valley in the 1880s was the first of several events that made Phoenix a trade center whose products reached eastern and western markets. Contact us today to learn what easy options you have to transform your home's bathroom.