Bathroom Remodeling in Mesa, AZ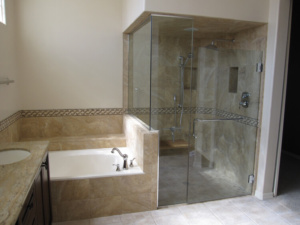 You hear a lot about different bathroom remodeling projects from your friends and family in Mesa, AZ and you may be wondering why they are doing this when it appears to be just fine. The fact is there are several reasons why someone would work with Sunset Tile and Bath on their bathroom remodeling project.
The bathroom as it is now may not be functional for the family that is there. Perhaps they want more storage space or they want to improve accessibility for a family member. Whatever your reason for talking with us about your bathroom renovations, you can be sure that we will use all of our experience to make the needed changes and to provide you with a quality finished product. Contact us today to learn more.
Custom Bathroom Remodeling in Mesa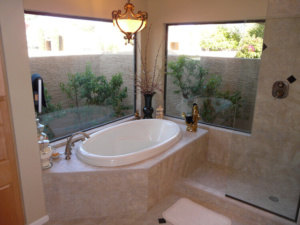 Part of what a homeowner may want involves a custom bathroom remodeling. This means that they aren't looking for the standard design aspects to their bathroom. It could be something like having a custom shower with several shower heads that provide a rainfall effect. Or it might be having storage that fits into a specific space that isn't standard and needs a hands-on, custom touch.
A custom bathroom remodel will make your home more valuable to you as you use this room multiple times a day. But it can also increase your property value because it isn't something that you find in homes every day. From adding a soaker tub to unique storage options to fresh approaches for lighting options, custom touches can make all of the difference in how you view your bathroom.
Bathroom Renovations in Mesa, Arizona
Whether you dislike the current layout of your bathroom or want to have a more personalized style, bathroom renovations can make your bathroom a sanctuary for relaxation. These changes can also upgrade the space with tile and better fixtures that will last longer, can provide better lighting, both natural as well as lighting fixtures, and other features that will make your bath remodel worthwhile for your Mesa, Arizona home. Talk with our team at Sunset Tile and Bath today to get your bathroom renovations started.
Let us help you to make your bathroom a space that don't try to hide any longer. After the founding of the city the elected official that most impacted the municipality was George Nicholas Goodman. He was mayor five different times during three different decades (1938–1942, 1946–1948, 1952–1956). As mayor he was directly involved in the process of acquiring land for both Falcon Field and Williams Field. Let us handle your bathroom renovations to make a room that you have always wanted. Contact us to get our team started on your project today.