Bath Remodel in Phoenix, AZ
You probably have a bathroom that is mainly used by visitors to your Phoenix home. It's not one that you personally use a lot, as you have your own bathroom, but you know that it probably is time that you do a bathroom remodel on that more publicly used bathroom. The team at Sunset Tile & Bath can help you make it an inviting space that anyone will appreciate using. You can keep the space clean and neat without needing to store lots of personal items there. And it doesn't need to be a space where people will spend a lot of time, as that's not the idea for this more public bathroom. But an update would definitely be welcome.
Bathroom Remodeling in Phoenix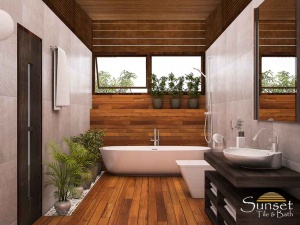 The big bath remodel will likely be your own master bathroom. This is the one that you will spend a lot more time in daily. Getting ready for work, relaxing after a long day, or making sure that everything looks just right before heading out on the town, your master bathroom is a space that you want to enjoy, not dread. Calling on their 25+ years of experience, the team at Sunset Tile & Bath can help you transform your master bathroom into the oasis you have wanted. They can work with you to choose the tiles that will complement the tub and shower, as well as the vanity and other cabinets that you want in your bath remodel. Hidden outlets for hairdryers and curling irons, extra storage space for the towels, as well as space for the other needs you have, Sunset Tile & Bath will make sure that it's all there.
Bath Remodel in Phoenix, Arizona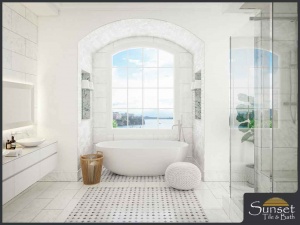 You might have gotten ideas from your friend's home and the bath remodel that they recently did. Or you have your own ideas and now is finally the time to make those ideas a reality. Whatever you can imagine, Sunset Tile & Bath can make it happen. From helping to design your new space to organizing all of the different aspects of the bath remodel, they have the tools and the talent to make it all happen. Get the best in the latest fixtures and other items for your Phoenix home to enjoy for years to come by contacting Sunset Tile & Bath.
On February 12, 1871, the territorial legislature created Maricopa County by dividing Yavapai County; it was the sixth one formed in the Arizona Territory. The first election for county office was held in 1871 when Tom Barnum was elected the first sheriff. He ran unopposed when the other two candidates (John A. Chenowth and Jim Favorite) fought a duel; Chenowth killed Favorite and was forced to withdraw from the race.